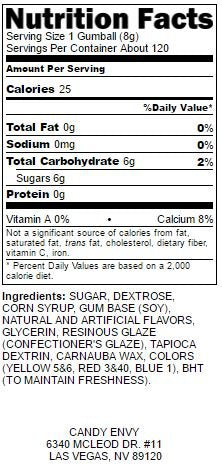 Yellow 1 inch Round Gumballs - 2 lb Bag
Yellow, can you hear me? Of course you can't, I'm a gumball. Though a LOUD gumball in bright yellow may be hard to hear, they definitely won't be missed on your candy buffet table!
No matter what you're celebrating, or how, these simple, tasty gumballs are a great way to share the sweetness! So go on, tap "Add to Cart", and we'll send you about 120 of these fantastic little white spheres of awesome!
Here are the Specs: 
LARGE YELLOW GUMBALLS - Each gumball is 1 inch in diameter
Color: Yellow
POUND BAG - Approximately 120 gumballs per bag
GLUTEN FREE / CIRCLE U KOSHER
Ingredients: Sugar, Dextrose, Corn Syrup, Gum Base (soy), Natural and Artificial Flavors, Glycerin, Resinous Glaze (Confectioner's Glaze), Tapioca Dextrin, Carnauba Wax, Colors, BHT (To maintain freshness)
UPC: 792055283490