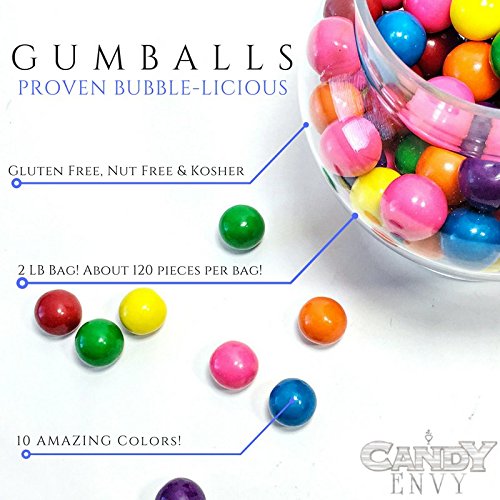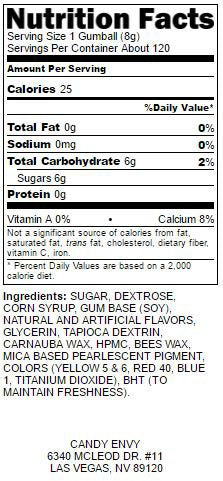 Shimmer Lime Green 1 inch Round Gumballs - 2 lb Bag
These electric lime green gumballs have a beautiful sheen to them making them perfectly suited for a bright accent to an elegant event or a fun and funky detail for a casual gathering. They move effortlessly between citrusy glam if paired with white or black, or another bright compliment like Shimmer Bright Pink or Shimmer Yellow, or they can flip the complete opposite direction and seamlessly compliment your funky Sci-fi themed soiree, complete with aliens and Area 51 fun. So if you're looking for juicy lime look-a-likes for your beautiful beach wedding cocktails and candy buffet, we won't tell a soul, you're contemplating using the leftovers as alien toes or eye of newt for your creepy Halloween bash!
Beautifully bright, silly, and sassy, these sparkly little balls of sweetness can't wait to meet you... no matter your nefarious plans. So grab a bag, and enjoy the same firm, yet tender, texture and bubble-gummy sweetness you expect from our signature gumballs... with a generous splash of extra special color.  
Here are the Specs:
LARGE SHIMMER PEARLESCENT GUMBALLS - Each gumball is 1 inch in diameter
Color: Vibrant Lime Green
2 POUND BAG - Approximately 120 gumballs per bag
GLUTEN FREE / CIRCLE U KOSHER
FREE E-BOOK - For your copy of our free E-book, order now, OR sign up for our free customer appreciation club. Not only will we send you the link to our E-book which will walk you though building your own custom candy buffet, we'll keep you up to date on what's new, exclusive deals and much more! 
Ingredients:

 

Sugar, Dextrose, Corn Syrup, Gum Base (soy), Natural and Artificial Flavors, Glycerin, Tapioca Dextrin, Carnauba Wax, HPMC, Bees Wax, Mica Based Pearlescent Pigment, Colors, BHT (To maintain freshness)
UPC: 792055283469